Gutters • Gutter Installation • Gutter Repair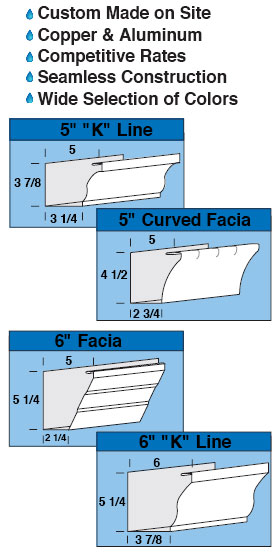 We carry gutters for residential and commercial applications.
Gutters not only catch roof runoff and send it away from your foundation, but they help to keep the wood around them from being damaged by water.
Contact JS Gutters for gutter replacement, repair and installation and take advantage of our complete resources for your home and business gutters. We'll get you the right colors, styles and attachments for all your gutter needs:
We have four popular styles:
Our 5" K Line gutter. This style of gutter is our most commonly used in all of our new construction projects. It comes in a huge variety of colors and helps to add a clean, sharp look to your roofline.
Our 5" Curved Fascia gutter. Though the same size as the above-mentioned gutter, the curved style helps to add a unique look to your home.
6" Fascia. The bold look of the 6" Fascia gutter helps to add a modern look and style to your home.
It has the added benefit of coving most 2x4 rafter tails, and the deeper openings help to hold water and debris; also making cleaning easier.
6" K Line. This gutter style has a wider opening for roofing material to hang over and is easier to clean due to the larger size. It's also great for tile, metal or shake roofs, as well as commercial properties and pole barns.
Gutter Installation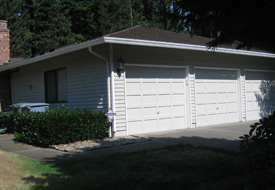 Our technicians know how to safely install gutter systems so they'll be secure in any weather.
You'll no longer have to deal with leaky old gutters in your home or business.
Our gutter installation comes with a full workmanship warranty for your peace-of-mind. Get quality service from JS Gutters. today.
S

afe and secure gutters
1-year warranty for your protection
Installed by our trained technicians
Commercial gutter installation

Residential gutter installation
Gutter Repair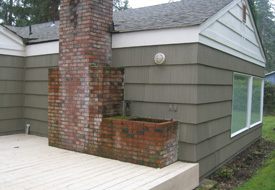 Rain gutters can be damaged by ice and snow build-up, weed beds can fill your gutters forcing weight downward, or they could be damaged by falling tree branches and other debris.
Our highly experienced technicians will come for service and repair all types of gutter problems. With over 100 years of combined experience, you wont find a better fit to take care of your gutter repair regardless as to the problem.
Debris weighing down your gutters
Misaligned gutters failing to let water flow toward downspout
Repair of damage from falling tree branches
Bent gutters from snow and ice build-up
Repair of broken or damage brackets, loose nails, & loose gutters

Replacement of missing gutter sections
Call JS Gutters. for your free gutter estimate. Reach us at Kent: 253-220-6970, Mt. Vernon: 360-707-4447. We're available Monday-Friday from 8-4 p.m.