Rain Barrels • Installatio

n • Rainwater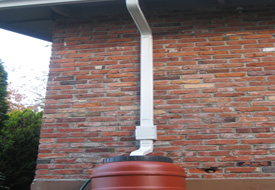 Are you looking for a way to help the environment out and live a little greener?
What could you do with an extra 1,300 gallons of collected rain water in the summer?
Our rain barrels are a great system of natural collection of roof surface runoff of tons of water during the rainy season, for use during the summer.
They are positioned under your downspout to catch roof's runoff and store rainwater for use later in the barrels so you'll have a year-round supply of clean and reusable water. We provide you all this without charging you any exorbitant price.
They're available in 55-gallon drums or barrels placed under the downspout, and have a hose attachment so you can use the extra water for your lawn, garden, car washing, and other uses. Delivery is available.
Stores up to approximately 1,300 gallons of water
Catches & stores rainwater from your gutters
Stops rainwater from being wasted
Can help save money on your water bill
Screen grate to keep out debris & insects
Easy to maintain & use

They sit under your downspouts to collect rainwater
Installation and Rain Barrels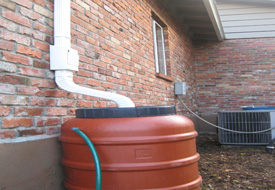 When you buy your new rain barrel from JS Gutters, we'll deliver and install them for you as well.
The downspout is run directly to your rain barrel and a convenient hose spigot is installed so you will be ready to use the water for your plants, lawn, or wash your vehicles. We'll also show you how to operate and maintain your rain barrel.
Call JS Gutters for all your rain barrel needs today
Delivery and installation
Saves you time and energy
Installation for multiple rain barrels

Instructions on use and maintenance
Call JS Gutters. for your free gutter estimate. Reach us at Kent: 253-220-6970, Mt. Vernon: 360-707-4447. We're available Monday-Friday from 8-4 p.m.