Bonney Lake Copper Gutters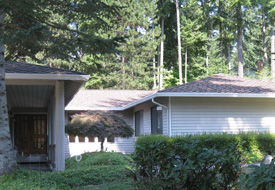 Gutters are a functioning component of any building but copper gutter systems add curb appeal and lasting value to any home. Copper creates a dramatic look while enhancing your home's beauty.
When constructing a home or remodeling your existing home consider new copper gutters for the exterior. Gutters are a means of protecting your home from rainwater and snow damage.
A building without gutters or improperly installed gutters may lead to:
Soil erosion
Foundation problems
Staining on masonry work
Settling and cracking of pathways
Among all types of gutter material, copper gutters emerge as the most preferred choice. We at JS Gutters, specialize in the installation of copper gutters for Bonney Lake, WA area property owners. We offer our professional services for installation of copper gutters in Bonney Lake through our talented technicians.
Bonney Lake Copper Rain Gutters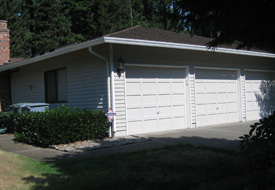 The copper used in copper rain gutters, apart from adding grace to the house, also prevent the growth of algae and fungi which in turn reduces clogging of the gutter. Copper rain gutters are:
Extremely durable, lasting decades
Reduces corrosion of the gutter
Eco-friendly
The common style of copper rain gutters includes K style, half round, and European style. In some houses, where fascia boards are not installed, fascia style copper rain gutters are also employed.
We have a skilled and creative team of technicians who install copper rain gutters in the Bonney Lake area. Add rain chains as graceful alternatives to traditional downspouts and you have a unique look to your home.
Bonney Lake Copper Gutters Cost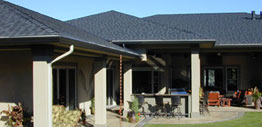 Though no one likes to spend more when other alternatives are available, the style and longevity of copper gutters are a cost-effective way of adding something special to your home.
Copper gutters are extremely durable and will last for years. They develop a gorgeous and protective patina that resists corrosion. Copper gutters cost is usually a bit higher than plastic or metal gutters because of their inherent longevity, low maintenance, and added aesthetic value to the property.
Variations in copper gutters cost depends upon fluctuations in the price of copper. Call our office and learn more about copper gutter. Our customer service will exceed any you have ever had in the Bonney Lake area. Our staff strives to accomplish assignments with:
Accuracy and precision
Skill and creativity
Sense of responsibility
For installation of any gutters or copper rain gutters at affordable copper gutters cost in the Bonney Lake area, reach JS Gutters at (253) 220-6970.