Gutter Covers

•

Premier Gutter Cover

•

Black Maxx Gutter Cover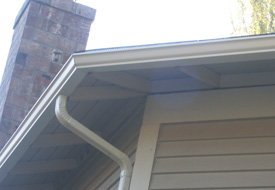 Our gutter covers let rain in while keeping debris out! Pine needles, leaves and other debris can get in and clog your gutters, especially if you live in a home that has nearby trees or bushes.
If left unchecked your gutters can turn into an insect and weed bed. Our products keep debris and clogs out of your gutters.
JS Gutters has the solution for you so you'll never have messy and infested gutters again.
We carry three different styles of gutter covers and we'll sell gutter covers as add-ons with your standard gutter installation, or we'll come add them to your existing gutters.
Don't worry about the look, our pro's will help select the perfect solution to match nicely with your new or existing gutters. You're always protected by a manufacturer's warranty.
Keeps debris & insects out of your gutters
Sold as an add-on to your standard gutters
See our professionals for color choices
Large inventory of gutter covers

Comes with a manufacturer's warranty


Premier Gutter Cover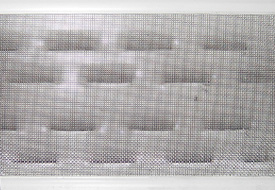 Avoid having to climb a ladder to clean your gutters with our Premier Gutter Cover.
The 5-6 inch gutter protection system can manage heavy rainfall in the Pacific Northwest, and helps to keep debris from building up and clogging your gutters. T
he Premier Gutter Cover has a patented self-cleaning design to ensure minimal maintenance. Ask about Premier Gutter Cover and our other products.
Handles heavy rainfall
Allows water to flow quickly without backing up
Patented low maintenance design
Doesn't allow weeds & moss to grow inside your gutters

Helps keeps water out of your crawl space, lawn & foundation


Black Maxx Gutter Cover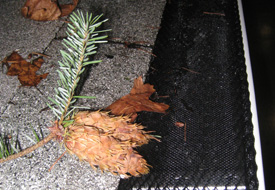 The Black Max Gutter Cover has an aluminum powder coated screen design that is guaranteed never to rust.
Couple that with JS Gutters's lifetime warranty if we've installed it, and your gutters are in good hands.
Black Max's unique screen system helps to eliminate both small and large debris from ever even landing inside your gutters, and it's high quality design ensures that your gutter cover will stay intact during high winds, while still keeping your gutters free of obstacles. Our service is fast and done correctly.
Aluminum screens designed to keep debris out
Stands up to high winds & heavy rainfall
For commercial & residential use
Comes with a manufacturer's warranty

Installed on new or existing gutter covers
Call JS Gutters. for your free gutter estimate. Reach us at Kent: 253-220-6970, Mt. Vernon: 360-707-4447. We're available Monday-Friday from 8-4 p.