Drain Guards

•

Downspouts

•

Gutters

•

Drains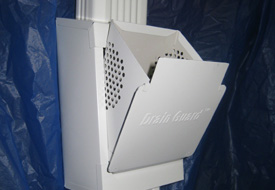 As water moves out of your gutters it falls through the downspout and often brings sticks or leaves with it, which can lead to a clog inside of your downspout.
These clogs are especially hard to deal with, as there is no easy way to clean them out.
This is where JS Gutters's drain guard systems come in handy.
We can insert a clean out box at an easily accessible level that will catch all these potential clogging materials.
When ready, all you need to do is pull open the small built in door, pull out the debris, shut the door, and walk away.
This is a nice addition to any new downspouts you buy from us, or we can even install them your existing gutters.
They're available for home and business use and can be installed on all your 2x3 or 3x4 downspouts.
Catches debris to help avoid clogging down spouts

Anti-clogging measure for your underground drains

Available for most types of gutter downspouts

Residential and commercial use

Helps to keep debris out of rain barrel

s