Seattle Downspouts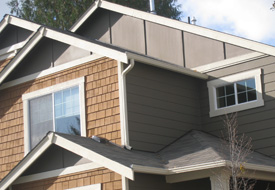 Rainwater runoff from the roof is a major concern for homeowners. People get gutters installed for collecting the water so that it does not seep into the walls, windows and doors.
The guttering system is incomplete until downspouts are put in place to carry the water from gutters to a safe discharging location. At JS Gutters, we install downspouts in Seattle, WA homes to keep them protected from rainwater damage.
Our company has been providing gutter and downspout installation services in the area since 1978. While installing downspouts in your Seattle home, we focus as much on aesthetics as on functionality.
We make sure that the downspouts we install:
Are high-performing
Match the color and style of gutters
Do not mar the curb appeal of the home
Along with downspout installation, we also offer downspout drainage solutions to ensure proper disposal of the rainwater run-off.
Seattle Downspout Drainage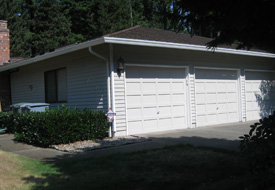 Installation of a downspout drainage system in your Seattle home is a must if you want to preserve its structural integrity, reliability, longevity and resale value. Call us for downspout extensions as well as to install downspout drain lines to redirect water flowing out of downspouts.
This water, if not redirected, can soak into and weaken the foundation. Our seasoned technicians know all that is necessary for efficient downspout drainage system and will take care to install top-grade downspout drainage underground pipes:
Deep in the ground
Far away from the foundation
In well-prepared, compacted soil
Seattle Downspout Installation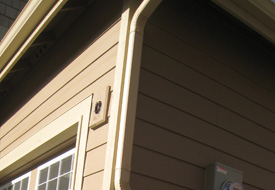 We realize that it is no good for homeowners to have downspouts that are of poor quality and that are installed inefficiently. That is why take a detailed approach to downspout installation jobs in Seattle properties.
Count on us for thoroughly professional downspout installation services. We:
Have downspouts installed by trained technicians
Use downspouts that are built for great performance and durability
Offer several size, shape and color options for downspouts
See to it that the downspouts are attached firmly to the guttering
Clean away debris and tools after downspout installation is done
The best thing about hiring us to install your downspouts is our competitive pricing. Our customer-friendly, family-owned company strives to keep your downspout installation cost in Seattle to the minimum.
Get in touch with JS Gutters for installation of downspouts in your Seattle home. We can also arrange for proper downspout drainage. Call (253) 220-6970.