Copper Gutters in Greenbank - Replacement & New Construction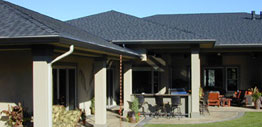 All homes need to have a gutter system in place. Otherwise, they are susceptible to severe damage to the foundation, walls, windows, and siding due to rainwater runoff from the roof.
Gutters can be made from several materials, including aluminum, vinyl, galvanized steel, wood, and copper.
If you are looking for reliable contractors to install copper rain gutters in the Greenbank, WA area, call JS Gutters. We are a family-owned, BBB-accredited company that has been in the gutter industry since 1978.
Our services are available for installation of copper gutters and downspouts in Greenbank in new construction or if you need replacements for worn-out/damaged gutters in existing homes.
Copper rain gutters installation is a highly specialized job. Compared to the other more commonly-used gutter types, installation of copper gutter systems calls for:
More time
Additional labor
Extra care and attention
Make sure your copper rain gutters in Greenbank are installed correctly by hiring us for the job.
What Is the Difference Between Copper Rain Gutters & Other Gutters?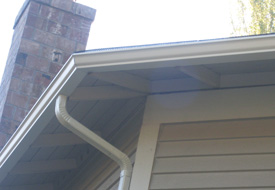 Most people believe that the main difference between copper and other gutters is that copper gutters cost more.
While it is true that copper gutter systems are more expensive, they rate higher than the other gutter types in many regards.
Copper rain gutters are:
Sturdier and more efficient
Much more durable (they tend to last more than 80 years)
Exceedingly stylish and attractive
Naturally resistant to rot and corrosion
Installation of copper rain gutters gives your Greenbank home an enhanced curbside appeal and even increases its price in the resale market.
Copper Gutters Cost More in Greenbank - But They are Worth it!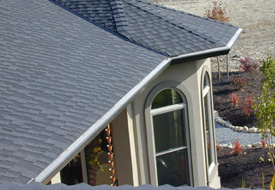 People who appreciate the benefits offered by copper guttering systems readily pay the high copper gutters cost per foot, as they know that it is a sound investment.
Copper gutters may cost more, but Greenbank homeowners are spared recurring gutter replacement expenses since these gutters last so long. Repairs are rarely needed for copper guttering, and much of the metal from old copper gutter systems is recycled and reused.
So, stop worrying about the high copper gutters cost! Spending a little extra on rain gutters now will bring you excellent returns for years to come. Give us a call to have copper rain gutters that are:
Custom-designed
Made from top-quality material
Crafted beautifully
Installed quickly and seamlessly
To plan their project with a free estimate on copper gutters cost, Greenbank residents should call JS Gutters at 253-220-6970.