Mill Creek Downspouts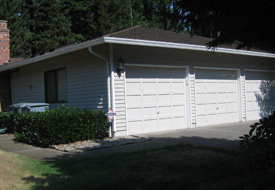 Downspouts are an essential component in channeling rainwater away from a property. Downspouts play a crucial role in preventing numerous problems, such as:
Basement floods
Soil erosion
Standing water
Moisture problems
If you are concerned about preventing water damage, install downspouts in your Mill Creek, WA home. Let the pros at JS Gutters help you with downspout installation in Mill Creek. Whether you are installing downspouts in a new home or replacing downspouts in an existing property, we have got you covered.
Mill Creek Downspout Drainage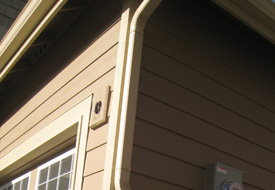 Without proper downspout drainage, homeowners in Mill Creek can experience stains on their walls and siding due to water channeling improperly. Worse yet, they may notice damage to their foundation.
If you decide to put your home on the market in the future, its value will decrease due to poor downspout drainage. Proper downspout drainage is crucial as it allows your system to properly perform its work.
It allows your home to:
Easily direct the rainwater away from the structure
Improve the lifespan of your home
Protect the roof and the guttering system
We understand the importance of proper downspout drainage. If you think your downspouts are not doing their job efficiently, call us. We can ensure efficient downspout drainage that keeps your home dry and safe.
Mill Creek Downspout Installation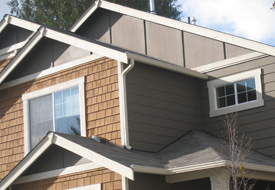 When you need downspout installation for your Mill Creek home, turn to us. We are a family-owned and operated company that has been installing downspouts in residential properties for years.
We pride ourselves on doing an excellent downspout installation job at a competitive price. We meet with the clients to discuss their needs, give recommendations and show them their downspouts options.
With years of downspout installation knowledge and experience, we know what it takes to get the work done correctly. We ensure the downspouts we use suit the type of roof you have in your home.
A few other reasons to choose us for installing downspouts in Mill Creek include our:
Trained, friendly and attentive team
Finest materials that last for many years
Quality downspout installation results
Dealing with water damage can be costly and stressful. Consider hiring us for downspout installation as downspouts are important in protecting your home right away.
If you have any questions regarding our downspout installation services for Mill Creek homes, please do not hesitate to call JS Gutters at (253) 220-6970.