Snohomish Downspouts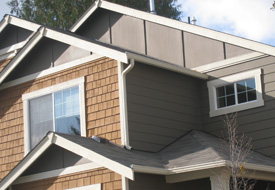 Downspouts are pipes that are a part of the guttering system. Downspouts take the rainwater from the roof to the ground. There are many benefits of installing downspouts in your Snohomish, WA home.
Downspouts prevent water from running over the edge of your house which can damage the outside walls or cause basement flooding. Downspouts also prevent water from entering into the windows or cracks of a home.
With downspouts, you can divert water away from the foundation. Other benefits to installing downspouts in your Snohomish home include:
Easy cleaning and maintenance
Integration into the roof
Matching the house
Availability in different material choices
JS Gutters offer professional downspout installation services to Snohomish homeowners. With our high quality products and guaranteed installation, we will ensure efficient downspout drainage.
Snohomish Downspout Drainage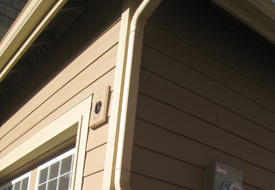 Do you have downspout drainage problems in your Snohomish home? In many cases, poor downspout drainage causes damp, leaky basements. There are a various reasons for poor downspout drainage:
Gutters are located too close to the roof
Leaves and debris have clogged your downspouts
Downspouts fail to reroute water away from home
We can assess the downspout drainage problems in your Snohomish home and recommend the best possible solutions.
Snohomish Downspout Installation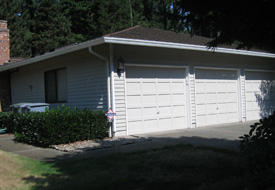 Your downspouts play a critical role in preserving the value and structural integrity of your home. However, old, outdated, or improperly installed downspouts can put your home's foundation at risk of cracking, making your home vulnerable to severe water damage.
That is why high quality downspout installation is one of the best investments you can make as a homeowner.
Proper downspout installation can effectively direct rainwater away from your foundation and keep your home in great condition for years to come.
We provide homeowners with professional downspout installation in Snohomish. With new downspouts, homeowners in Snohomish can protect their home from the devastating effects of rainwater while also improving curb appeal.
Working with us means hiring professionals with years of experience, industry knowledge of all types of downspouts, and the know-how to get the installation job done right the first time.
We are fully committed to your satisfaction, which means you can expect:
Tailored solutions
Attention to detail
Affordable prices
Hassle-free services
FREE estimates
For downspout installation in Snohomish and the surrounding areas, call JS Gutters at (253) 220-6970.