Camano Island Downspouts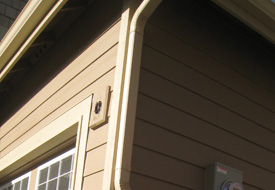 Collection of water on the roof of your home can be dangerous to the structure, as standing water can weaken the structure. Downspout drainage is the ideal way to let the rainwater flow away from your home, but you must get the installation of downspouts done by the experts.
JS Gutters offers high quality services for the installation of downspouts for Camano Island, WA residents. As a reliable and reputed company known for installing downspouts, we offer downspouts in various styles that include:
Round downspouts
Rectangular corrugated downspouts
Smooth round downspouts
We also provide decorative downspouts to Camano Island homeowners, which give the exteriors of your home an enhanced look. We also repair and install new downspout extensions to ensure that the rainwater is completely drained off the roof.
Camano Island Downspout Drainage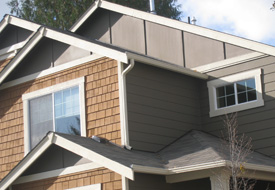 Rusted or broken downspouts not only damage the roof but can also give a bad curbside appearance to the house. The rainwater, instead of running down the drains, runs down the sides of the house, leaving long and dirty water marks. You must get proper downspout drainage for your home so that it keeps looking aesthetically beautiful and high in value.
We are pioneers in downspout drainage and have been providing reliable downspout installation in Camano Island for a long time. When you choose our downspout drainage system, we ensure that it:
Matches the color and style of the decor
Is properly sized to ensure efficient flow of water and debris
Is attached properly to the gutters and home
We can also provide downspout drainage underground, which will ensure that the rainwater goes away from your home through underground pipelines.
Camano Island Downspout Installation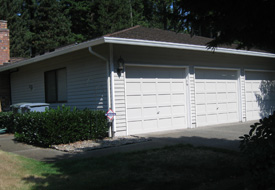 There might be several companies offering downspout installation in Camano Island. However, you must understand that adding downspout to existing gutter is no ordinary job. We are the ideal company to choose for downspout installation in Camano Island as we:
Are reliable and recommended
Offer timely and affordable services
Use the latest techniques
Have a skilled workforce
If you are concerned about our downspout installation cost, then let us assure you that we always charge reasonably. Our technicians will also offer downspout installation tips for our clients that will help you take care of the downspouts for years to come.
If you need any installation of downspouts in Camano Island, call JS Gutters at (253) 220-6970.