Everett Downspouts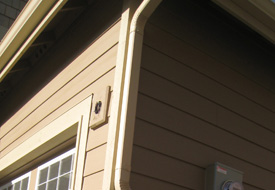 Rainwater can cause severe damage to your house if it is allowed to stand on the roof, seep into joints or soffits, or flow down the walls to soak into windows, doors, and the foundation. The best protection against this is the installation of a gutter system complete with downspouts in your Everett, WA home.
Run-off rainwater collects in the gutters and passes through the downspouts, keeping the roof and walls dry. A suitable downspout drainage system at the end of downspouts ensures that rainwater flows safely away from the home.
Call JS Gutters for installation of downspouts to protect your Everett home from rainwater damage. We have been providing downspout installation services in this area since 1978 and are known for installing downspouts that are:
Strong and reliable
Securely fixed to the gutters
Durable
Colored to complement the gutters and to improve curb appeal
Everett Downspout Drainage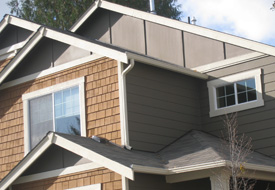 Having downspouts on your home is not of much use if proper downspout drainage piping is not in place. If the water coming out of the downspouts is not properly arranged, the water will simply be dumped in the yard or at the base of your foundation. The lack of a downspout drainage system in your Everett home can result in several problems, such as:
Leaky basements
Weakened or cracked foundation
Over-saturated soil and landscape damage
Give us a call to install downspout drain lines in your home so that your investment in downspouts is protected. Don't waste your money with subpar installation! We offer a customized downspout drainage solution for your home and install high-quality underground downspout extension piping at the correct depth.
Everett Downspout Installation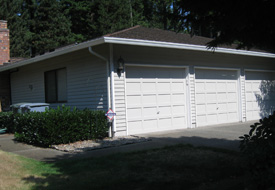 Installation of downspouts may seem to be a simple enough task, but it does require certain skills and the utmost diligence. That is why we are one of the best places to call for downspout installation in Everett homes.
Our technicians are well-trained and highly experienced on the job. They also focus on both the functions and aesthetics while performing a downspout installation job in Everett. You can count on them for:
Sound advice on choice of design style, color, and size of downspouts
Seamless downspout installation done with careful attention to detail
Quick and hassle-free completion of the job
Call us today for a free estimate of your downspout installation cost!
Make JS Gutters your first call for installation of downspouts and downspout drainage system in your Everett home. Call (253) 220-6970.